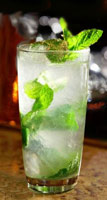 I loved to drink and serve this mojito recipe. Mojito is a coctail that consists of five ingredients and they are mint, white rum, lime jiuce, sparkling water/club soda and sugar.
For me, this recipe provides a right amount of mint. But of course, base on you liking, you can always add more or less mint in it.
Ingredients :
4 mint leaves
1 teaspoon powdered sugar
1 lime (for juicing)
2 ounces club soda
2 ounces white rum
1 sprig of mint (for garnishing)
crushed ice cubes
Preparation:
Put the mint leaves into a glass and squeeze the lime juice over them.
Add the powdered sugar into it then combine the mint, lime juice and sugar together using a muddler.
Add crushed ice into the mixture.
Now, Stir in the rum and top off with the club soda.
Then lastly, Garnish it with a mint sprig.
Servings: Makes one glass of drink.