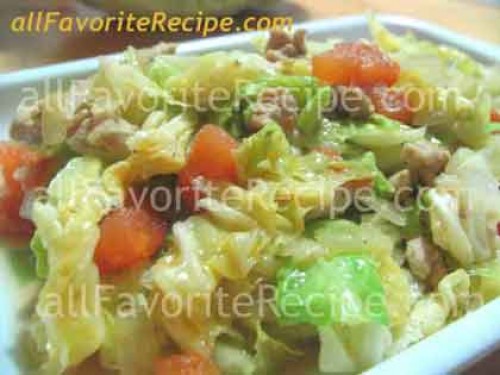 Ingredients :
1 head repolyo (cabbage)
2 tbsp. oil
1/2 lb. pork, sliced
3 cloves garlic, minced
1 onion, sliced
2 tomatoes, chopped
1/4 cup shrimps, shelled and deveined (optional)
1 cup vegetable broth (or water)
salt and pepper, to taste
(Food Measurement)
Cooking Procedures :
Wash cabbage well. Drain and sliced. Set aside.
In a pan, heat oil. Stir-fry pork for about 3-5 minutes or until the color is no longer pink.
Add garlic, onions and tomatoes. Sauté for a few minutes until it becomes soft and wilted.
Add shrimps (if using) and cook for another minute.
Pour in broth or water. Season to taste.
Bring to boil and then simmer. Add sliced cabbage and stir for a few minutes or until cabbage is crisp-tender (being careful not to over cook it).
Correct the seasoning. Remove from heat and serve.