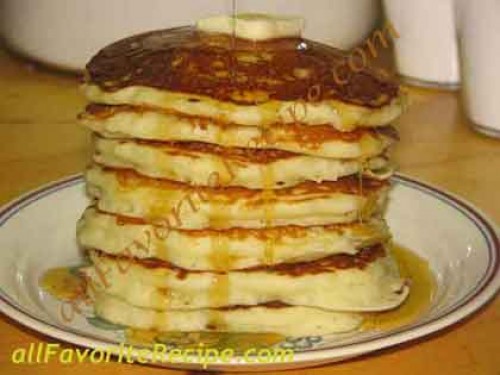 Pancakes are called hotcakes back in our country.  Pancakes can be eaten hot or cold, and are generally topped or filled with a sweet or savory sauce or condiment, but this buttermilk pancakes that I made was filled with butter and maple syrup.
Before, I used to buy commercial or ready to make pancakes, one that you can buy from grocery stores that is ready to cook.  But when I made pancakes using the basic cooking techniques, you will really taste a big difference.
The whole family agrees that next time I will make pancakes, I'll use my treasures of baking ingredient in my kitchen and no more to ready to make pancakes.
If you want to make a perfect pancake, visit the hints and tips portion of this site or follow this link – Making a Perfect Pancakes
Ingredients :
2 cups all-purpose flour
1/4 cup sugar
2-1/4 tsp. baking powder
1/2 tsp. baking soda
1/2 tsp. salt
2 eggs
2 cups buttermilk
1/4 cup melted unsalted butter, plus some for frying
1 cup blueberries, fresh or frozen (optional)
(Baking Conversion Table)
Cooking Procedures :
In a large bowl, sift together the flour, sugar, baking powder, baking soda and salt.  Set aside.
In a separate small bowl, beat the eggs with the buttermilk and melted butter.
Combine wet ingredients to dry ingredients by whisking slowly just until combined into a lumpy batter, being very careful not to over mix (Over mixed batter will result in flat and heavy pancakes).
Let the batter rest for 30 minutes to 1 hour for better results.
Heat up a large nonstick frying pan on medium heat.  Brush a little oil or butter in the pan.  Wiping out the excess by paper towel to avoid burning the pancake and then turn heat down to medium-low.
Spoon 1/3 cup of batter and pour evenly into the pan.  Sprinkle the top with some of the blueberries (if using).  Cook until little bubbles arise on surface of the pancake and flip.  The pancake's edges lose their shine and become matted.  Cook until the other side is lightly golden brown, about 2 to 3 minutes per side.
Repeat with the remaining butter and batter.
Serve with a dollop of whipped cream and maple syrup.
Tips
The only way to make a best pancakes even better: Stack them a mile high, slide soft pats of sweet butter in between each one, then drizzle warm maple syrup in a thick amber cascade over the top and down the sides, until the pool of syrup in your breakfast plate reaches the rim.
Check these Tips: