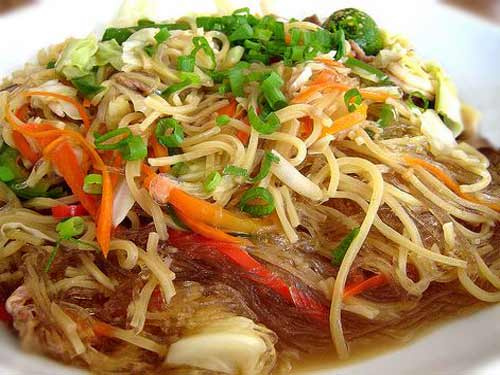 Ingredients :
1 (2 lbs.) fryer chicken, cut up
1/2 cup dried tengang daga (black woodear mushroom)
8.8oz sotanghon noodles, soaked in water just to soften a little, drain
2 tbsp. canola oil
3 cloves garlic, crushed
1 onion, sliced
patis (fish sauce), salt and pepper, to taste
1 pkg. (14oz) canton noodles
2 tbsp. minced cilantro
1 hard-cooked egg, sliced
(Cooking Measurements)
Cooking Procedures :
Boil chicken in enough water to cover.  Simmer until tender.  Cool and shred chicken meat.  Save about 6 cups of chicken broth.
Soak tengang daga in hot water for 15 minutes and then slice.  Set aside.
Sauté garlic and onions in hot oil.  Add sliced tengang daga, 6 cups chicken broth and seasonings.  Bring to a boil.
Stir in canton for 3 minutes and then add sotanghon, shredded chicken meat and cilantro.  Cook for 8-10 minutes.  Check the doneness of the noodles (be sure not to overcooked and it will become soggy).
Garnish with slices of hard-cooked egg.
Makes 8 servings.