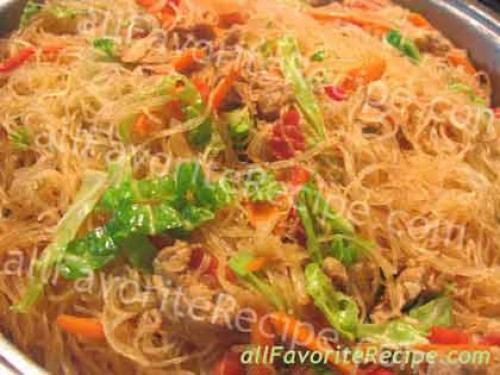 "Pansit" or Pancit bihon is one of the variety of Pancit Guisado is somewhat a Chinese-Filipino food dish that I love to cook always.  I like to cook this pancit bihon guisado during my husband and sons birthday celebration but the rice noodle stick that I'm looking for is not available in the Asian Store.  There are other rice noodle stick brands in the store but based on my experience, I don't like those other brands.
In the end, I end up cooking my favorite Filipino food dish the humba recipe together with the lumpia shanghai and the wonton soup.
Ingredients :
1 tbsp. cooking oil
1/2 lb. pork, sliced
2 cloves garlic, minced
1 onion, sliced
1 large carrot, julienne
1 red bell pepper, julienne
patis (fish sauce), salt, pepper and soy sauce to taste
2 cups chicken broth or water
1 cup cabbage leaves, cut into thin strips
1/2 lb. pancit bihon (rice sticks noodles)
wedges of lemon or calamansi, for garnish
(Conversion Chart For Cooking)
Cooking Procedures :
Rinse pancit bihon with tap water.  Drain.  Set aside.
Heat oil in a large skillet.  Stir-fry pork slices until no longer pink in color.
Add garlic and onion.  Sauté for a few minutes until soft.
Season with patis, salt, pepper and soy sauce to taste.
Add julienne carrots and red bell peppers.  Stir-fry for a few minutes.
Add chicken broth or water.  Correct the seasoning.
Heat until boiling and add the drained pancit bihon.
Let it simmer and stir to loosen the noodles (separate noodles by using a fork and a ladle)
Add a little more water or broth if you notice that is almost dry up and noodles ("pancit") are not yet cooked well.  You may also add soy sauce if you find it pale and taste bland.
Add cabbage leaves (do not overcook) and then turn off the heat.  Mix well.
Serve with lemon wedges or calamansi.  Enjoy!
Have You Tried These Other Pancit Recipe?