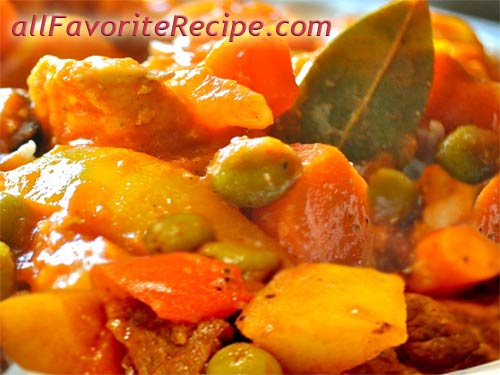 Caldereta or Kaldereta is a classic Filipino dish that traditionally uses goat meat with stewed tomatoes (see Goat Kaldereta Recipe). But goat meat is hard to find except from specialty store, that's why most Pinoy opted to use other meats such as pork, beef and chicken which is common in the marketplace.
Anyways, hope you'll like this Beef Caldereta recipe because my family love this Filipino dish.
Ingredients :
2 lb. beef, cut into cubes
1 cup vegetable oil
3 cloves garlic, chopped
1 onion, chopped
1 tsp. chili flakes
4 cup water
1 cup tomato sauce
1/2 cup liver spread
3 bay leaf
2 cup potatoes, quartered
2 cup carrots, sliced
2/3 cup green olives
1 red bell pepper, sliced
1 green bell pepper, sliced
salt and pepper, to taste
(Cooking Measurements)
Cooking Procedures :
In a large pan, heat oil. Fry the potatoes and carrots until color turns light brown. Remove and set aside.
Add beef to the pan; stir-fry for a few minutes until lightly brown. Remove and set aside.
In the same pan, sauté the garlic and onions until translucent. Add chili flakes. Return beef and accumulated juices to pan. Stir-fry for a  few minutes. Add water, tomato sauce, liver spread and bay leaf; stir to combine. Bring to a boil then simmer, about an hour or until meat tender.
Add potatoes, carrots and green olives; simmer for another 6 to 8 minutes. Season salt and pepper to taste. Add bell peppers, cook for additional 2 minutes.
Transfer to a platter. Serve hot and Enjoy your Kaldereta.
Try This Other Caldereta Recipe: