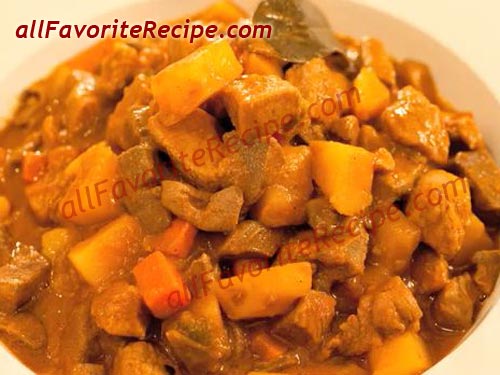 Ingredients :
2 lb. pork belly, cut into cubes
1/2 lb. pork liver, cut into cubes
1/2 cup soy sauce
juice of 1/2 lemon (or juice of 4 calamansi)
1/4 cup vegetable oil
3 cloves garlic, chopped
1 onion, chopped
2 cups tomato sauce
1 cup water
1 tsp. brown sugar
1 bay leaf
1 cup potatoes, diced
1 cup carrots, diced
1 cup red bell pepper, diced
salt and pepper, to taste
(Food Measurement)
Cooking Procedures :
In a large bowl, combine pork with soy sauce and lemon juice (or calamansi juice). Marinate for an hour in the refrigerator. Remove pork from marinade, reserving the liquid.
Heat oil in a large pot (or casserole) over medium heat. Fry potatoes and carrots until lightly brown. Remove and set aside.
In the same pot, stir-fry the marinated pork; cook until lightly brown. Remove and set aside.
Sauté garlic and onions until fragrant and translucent. Add pork liver; stir-fry for 5 minutes. Return pork and accumulated juices to pot; stir to combine.
Add tomato sauce, water, brown sugar and bay leaf; stir. Bring to boil then allow to simmer for about 20 to 25 minutes or until pork and liver are tender.
Add potatoes and carrots; stir and cook until tender. Season with salt and pepper. Add diced red peppers then simmer for another 2 minutes. Transfer to a platter and serve hot.