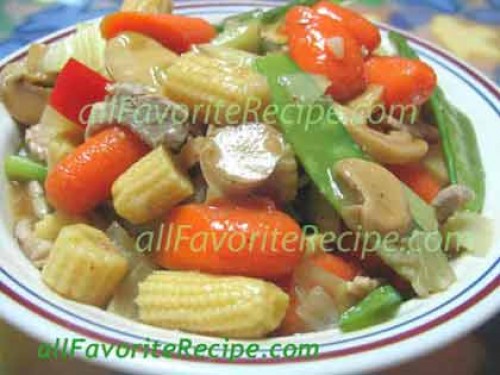 Pork chop suey is a Chinese dish primarily made up of mixed vegetable with meat like chicken, fish, beef, shrimp or pork, added for extra flavor. Chopsuey is widely believe to be an  American-Chinese immigrants creation, and not an authentic Chinese dish. They said, Chinese farmers was inspired to cook a stir-fried vegetables known now as chopsuey and ate them after a long day working in the fields.
Ingredients :
1/2 lb. pork, cut into thin strips
1 tsp. soy sauce
1 tsp. oyster sauce
salt and pepper, to taste
1 tsp. cornstarch
1 to 1-1/2 cup chicken broth (or water)
2 tbsp. cornstarch
2 tbsp. oyster sauce
1/2 tsp. sugar
1/4 cup vegetable oil
3 cloves garlic, minced
1 onion, chopped
1-1/2 cup baby carrots, halved
3 stalks celery, cut diagonally into 1 inch long
1/2 cup chopped red bell pepper
15 to 20 pieces snow peas, trimmed
1 can slice mushroom, drained
1 can miniature cut cobs of corn, drained
(Kitchen Conversion)
Cooking Procedures :
Cut the pork into thin strips. Combine soy sauce, oyster sauce, salt and pepper, and cornstarch. Stir to blend and then add the meat. Marinate for 10 to 15 minutes. Set aside.
In a small bowl, whisk together broth, cornstarch, oyster sauce and sugar. Stir to blend and then set aside.
Heat oil in a wok (or deep skillet) over medium heat. Fry pork for about 3 to 5 minutes. Add garlic and onion until soft and translucent. Stir in baby carrots for about a minute. Add the rest of the vegetables, stir-frying for a minute or two after each addition.
Add the cornstarch mixture. Bring to a boil. Lower the heat and continue stirring until well blended and sauce thickens. Correct seasonings.
Immediately remove from heat after heated through. Transfer to a serving platter. Serve hot the chop suey dish.