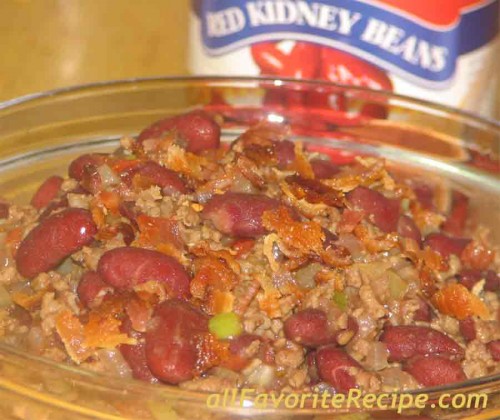 Ingredients :
1 cup uncooked kidney beans
3 cups water (or 1 can red kidney beans, optional)
1 lb. ground beef
1 tbsp. crushed garlic
1 cup chopped onion
1 cup chopped tomatoes
1 cup sliced celery
2 to 3 tbsp. chili powder
1 tsp. oregano
1 tsp. cumin
2 tsp. salt
2 tbsp. sugar
2 tbsp. liquid seasoning
1 tsp. hot sauce
1/2 cup bacon, fried and crumbled, for garnishing
(Kitchen Conversion)
Cooking Procedures :
Boil kidney beans in water. Remove from heat. Cover and let stand for an hour. Again, boil the beans and then reduce heat and simmer until they are tender. Set aside. Alternatively, use canned of red kidney beans (or any kind of canned kidney beans according to your liking).
In a skillet, brown beef for about 4 to 6 minutes over medium heat. Drain excess fat. Add garlic, onion and tomatoes. Stir-fry until soft and wilted.
Add celery and spices. Stir for a while until well blended. Heat to boiling and then reduce heat, cover and simmer for 30 minutes or until done.
Stir in boiled beans (or canned, if using). Correct seasonings. Boil and simmer uncovered for 10 minutes until the chili thickens.
Remove from heat. Transfer to a serving dish. Garnish with crumbled bacon on top and serve.
Try other variation: