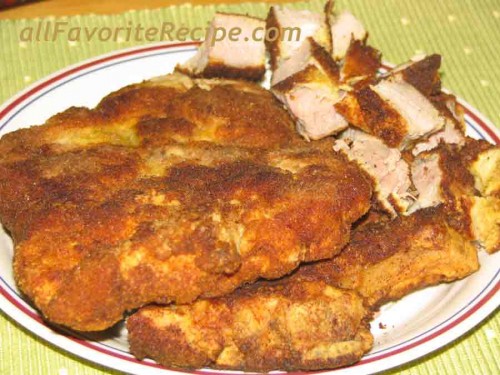 Ingredients :
4 pork chops
1 tsp. salt
1/3 tsp. pepper
1/2 cup flour
1/2 tsp. garlic powder
1 egg
2 tbsp. water
salt and pepper, to taste
1/2 cup breadcrumbs
oil, for frying
(Food Measurement)
Cooking Procedures :
Rub pork chops with salt and pepper. Let stand for about 30 minutes in the refrigerator.
In a bowl, combine flour and garlic. Set aside. In another bowl, whisk egg with water and season with salt and pepper until well blended. Set aside.
Dredge each chops with flour. Then dip in egg mixture until well coated and roll in breadcrumbs. Shake off excess crumbs. Place chops on a clean plate and let it rest for 10 to 15 minutes for the coating to set.
Heat oil in a skillet (or fryer, if using) over medium heat. Fry breaded chops for about 10 to 12 minutes on each side, turning only once. Drain on paper towels. Transfer to a serving platter and serve.
Alternatively, place breaded chops on a rack of a roasting pan. Put pan in the center of the oven and bake at 350°F for about 45 minutes.