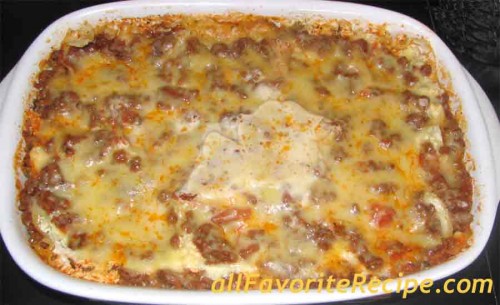 Last May 20, 2006 was my son's first communion. The next day, we had a wonderful salo-salowith some friends here in Canada. This tasty baked meat lasagna was one of the dishes I've prepared. It's simple and healthy. And it was a hit.
In this baked meat lasagna recipe, I've used the oven-ready lasagne noodles to save my time in preparing it. I adjust the baking time to 40 mins. and bake for additional 10 mins for the cheese to melt. I like it melted through and uh-umm, it's so yummy!

Ingredients :
9 lasagna noodles, cooked, drained
1 lb. extra lean ground beef
3 cloves garlic, minced
1-1/2 tsp. dried oregano leaves
1 can (680 mL) pasta sauce
1 large tomato, chopped
1 container (500 mL) cottage cheese
2 cups shredded cheese (of your choice), divided
(Conversion Chart For Cooking)
Cooking Procedures :
PREPARE lasagna noodles according to package directions. Set aside.
PREHEAT oven to 375°F. In a medium saucepan on medium heat, brown ground meat for about 5-7 minutes. Drain fat. Add garlic and oregano, sauté for a few seconds. Stir in pasta sauce and simmer for 5 minutes. Remove from heat. Stir in tomatoes.
SPREAD 1/2 cup of the sauce mixture in bottom of 13×9-inch baking dish. Layer 3 noodles, 1 cup of the cottage cheese, 1/2 cup of the cheese and 1 cup of the remaining sauce mixture in dish. Repeat layers. Top with remaining 3 noodles and sauce mixture. Cover with aluminum foil.
BAKE 30 minutes or until heated through. Remove foil and top with remaining 1 cup shredded cheese. Bake, uncovered, an additional 5 minutes or until cheese is melted. Let stand for 5-10 minutes before serving.
Make-Ahead
Prepare as directed except for baking. Cover and refrigerate up to 24 hours. When ready to serve, covered and bake at 375°F for 40 minutes or until heated through.Makeover Savings
Made over a traditional lasagna that results in a total savings of 197 calories and 18 grams of fat per serving. Used extra lean beef instead of Italian sausages. Replaced ricotta with cottage cheese (for me, i've used a low-fat) and also used part-skim shredded cheese.