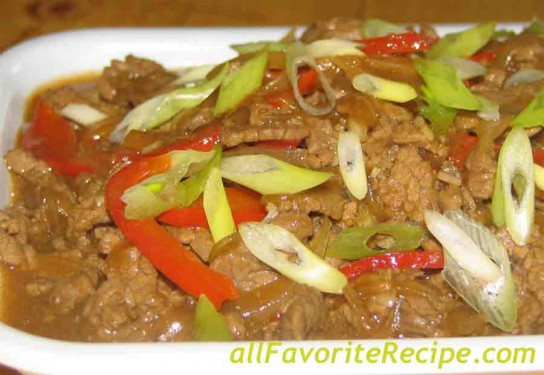 Ingredients :
1/2 lb. beef (or pork), cut into thinly strips
3 tbsp. cornstarch
3 tbsp. butter
4 cloves garlic, minced
1 onion, finely chopped
2 tbsp. soy sauce
2 tbsp. Worcestershire sauce
1/2 tsp. pepper
1/2 cup water
1 red bell pepper, cut into strips
1 green bell pepper, cut into strips
spring onions, for garnishing
(Metric Cooking Conversion)
Cooking Procedures :
Coat meat strips with cornstarch. Set aside.
In a skillet over medium heat, melt butter. Add beef strips and stir-fry for 3 to 5 minutes or until lightly brown. Stir in garlic until fragrant. Add onion and sauté for 3 minutes. Pour in soy sauce, Worcestershire sauce and pepper, and then add the water. Cover and let it simmer for about 10 to 15 minutes or until meat is tender.
Add red and green bell pepper strips. Cook for another 3 minutes. Correct seasonings. Stir and blend well.
Remove from heat. Transfer to a serving plate and garnish with spring onions on top and serve.
Try other variations: