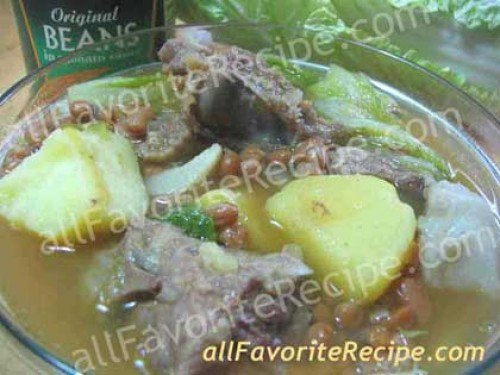 Nilaga in filipino means 'boiled'. Nilagang Baboy is another filipino food recipe that is easy to make that you just throw everything in the pot and let it cook until tender. It can be with pork or beef of any kind you like and just add any vegetables of your choice.
Corns and ripe saba (banana plantain) is also good in this dish. You may or may not add pork and beans — it's up to you if you'll like it thickened or just a clear soupy dish. You can even add a thumb-size ginger for a pungent flavor. Nilaga is good in any kind of weather.
My family love nilaga. They like soupy kind of food dish that they quickly finish their meal. I remember that we used to have this dish (we call it nilat-an in our dialect) during Sunday's lunch. We always had our get-together with my in-laws every weekend.
Preparing this nilagang baboy (boiled pork with vegetables) reminds me of my family back home.
Ingredients :
1 lb. pork (choices of belly, hocks, neck or any bony parts of pork), cut into serving pieces
5-6 cups water
3 cloves garlic, crushed
1 onion, quartered
2 green onions (scallions), sliced into 1" long
1/4 tsp. peppercorn
salt to taste
2 eddoes- also known as taro or gabi, quartered (optional)
2 potatoes, quartered
1 can pork and beans
pechay (bok choy) or cabbage leaves
(Conversions For Cooking)
Cooking Procedures :
Place pork in a big pot and let it covered with water. Bring to a boil. Lower the heat and let it simmer until pork is tender for about an hour.
Remove all the resulting scum that will rise to the top of the pot.
Add crushed garlic, sliced onions, scallions, peppercorn and season with salt.
Add quartered eddoes (if using) and potatoes. Cook until tender.
Add the pork and beans. Simmer for 5 minutes. Correct the seasoning.
Add pechay or cabbage leaves. Do not overcook the green vegetables.
Remove from heat. Serve hot.
Check these Tips: