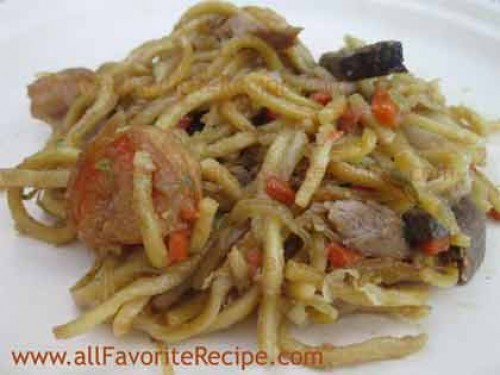 Pancit Canton or Lo Mein is a dish of Chinese origin that becomes one of the traditional Philippine noodle dish that is mostly made of egg noodles, vegetables, chicken, pork and shrimp.
Ingredients :
1/2 lb. shrimps
1 eggwhite
2 tbsp. cornstarch
2 chicken breast, deboned
3 tbsp. oil
3 cloves garlic, crushed
1 onion, chopped
2 pcs. chicken liver, cooked and sliced (optional)
patis (fish sauce), salt, pepper and soy sauce, to taste
1-1/2 cups chicken broth
1 head cauliflower, cut into floweretes
1/4 cup snow peas
1/3 cup leeks
1 small carrot, cut into rounds
2 tbsp. cornstarch, dispersed in
1/4 cup water
1 package canton noodles
(Cooking Measurements)
Cooking Procedures :
Peel shrimps leaving the tails intact. Coat with a mixture of eggwhite and cornstarch. Slice chicken breast into strips and coat with cornstarch. Set aside.
In a wok (or large frying pan), heat oiland sauté garlic and onions. Add in chicken meat, liver and shrimps. Season to taste. Stir-fry for a few minutes.
Pour in broth and bring to a boil. Lower heat and let it simmer for 2 minutes. Add in all the vegetables. Cook until tender but still crisp. Thicken with dispersed cornstarch.
Stir in canton noodles and cook until tender.
Makes

4-6

servings.
Have You Tried This Other Pancit Recipe?