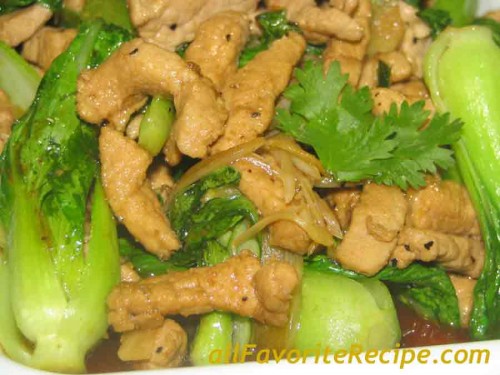 Ingredients :
1 tbsp. vegetable oil
4 gloves garlic, sliced
1 tbsp. crushed black pepper
1 lb. lean pork, cut into strips
2 tbsp. brown sugar
2 tbsp. soy sauce (light or dark)
2 tbsp. lime juice
1 lb. bok choy (Chinese greens)
4 tbsp. fresh coriander (cilantro) leaves
(Food Conversion Chart)
Cooking Procedures :
Heat oil in a wok (or in a heavy skillet) over a medium heat. Add garlic and crushed black peppercorns and stir-fry for a minute.
Add pork strips and stir-fry more minutes or until brown.
Add sugar, soy sauce and lime juice. Stir and blend. Add the bok choy and coriander (cilantro) and stir fry for 3 to 4 minutes or until bok choy are tender (be careful not to over cook the greens).
Remove from heat. Transfer to a serving platter. Serve hot.
Helpful Tips
Bok choy is also known as Chinese cabbage – bok choy and pak choi. It varies in length from 4-12 inches. For this recipe, the smaller variety is used. It has a mild, cabbage-like flavor. Ordinary cabbage could also be used for this recipe.