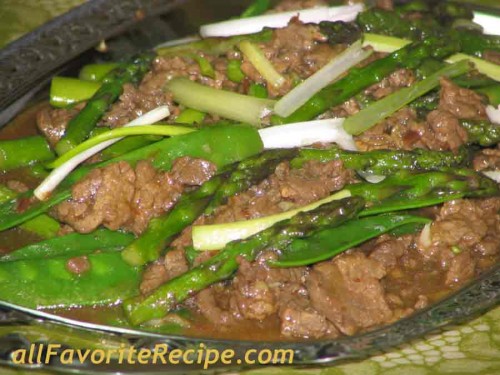 Ingredients :
1 lb. beef flank or boneless sirloin steak
1 tbsp. vegetable oil
1 tsp. cornstarch
1 tsp. salt
1 tsp. sugar
1 tsp. soy sauce
dash of white pepper
4 oz. snow peas (pea pods)
1 lb. asparagus
2 green onions (with tops)
1/4 cup chicken broth (or cold water)
2 tbsp. cornstarch
2 tbsp. oyster sauce
1 tsp. sugar
3 tbsp. vegetable oil
1 tsp. finely chopped gingerroot
1 tsp. finely chopped garlic
2 tbsp. vegetable oil
1 tsp. salt
2 tbsp. dry white wine
1/2 cup chicken broth
(Measurements For Cooking)
Cooking Procedures :
Trim fat from beef and slice beef with grain into 2 inch strips. Cut strips across grain into 1/8 inch slices. Set aside.
In a glass or plastic bowl, mix vegetable oil, cornstarch, salt, sugar, soy sauce and pepper. Stir in beef. Cover and refrigerate 20 minutes.
Remove strings from pea pods. Place pea pods in boiling water. Cover and cook for a minute. Drain. Immediately rinse under running cold water and drain.
Cut asparagus into 2 inch pieces, discarding brown tough ends. Set aside. Cut green onions into 2 inch pieces and cut pieces lengthwise into thin strips. Set aside. Mix chicken broth, oyster sauce and sugar in a small bowl. Set aside.
Heat vegetable oil in a wok (or a skillet) over medium-high heat. Add beef, gingerroot and garlic. Stir-fry until beef is brown for about 3 minutes. Remove beef and set aside.
In the same wok, add 2 tbsp. oil. Add asparagus and salt. Stir-fry for a minute. Add white wine. Cook and stir 30 seconds. Pour in chicken broth and stir. Add in back the beef. Stir to combine. Correct seasonings. Pour in cornstarch mixture, cook and stir until thickened for about 20 seconds. Add pea pods. Cook and stir 30 seconds. Stir-fry until well combined.
Remove from heat. Transfer to a serving platter. Garnish with green onions and serve.