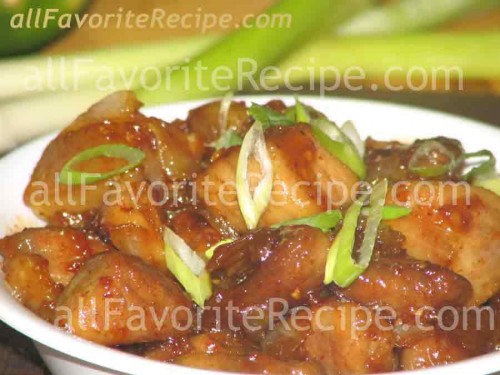 Ingredients :
1-1/2 lb. pork, cubed
2 cloves garlic, minced
2 onions, sliced
1/3 cup sugar
3/4 cup water
1-1/2 tbsp. patis (fish sauce)
1-1/2 tbsp. lime juice
1/2 tsp. salt
1/2 tsp. five spice powder
red chili peppers
2 green onions (scallions), chopped, for garnishing
oil, for frying
(Kitchen Conversion)
Cooking Procedures :
In a heavy-based pan, heat oil.  Add pork cubes and stir-fry until turn into lightly brown.  Add garlic and onions and cook until onions are soft and translucent.  Remove from heat.  Set aside.
In a separate saucepan, mix sugar with water.  Stir over low heat until sugar dissolves.  Bring to a boil and then reduce heat and simmer until liquid is golden.
Remove from heat.  Carefully add fish sauce and lime juice, which will spatter.  Return to heat and stirring quickly to remove any lumps and until the sauce reduces a little.
Meanwhile, return the pan with the pork mixture to reheat.  Add salt, five-spice powder and chili peppers.  Stir to blend.  Add in the caramel sauce and cook for a minute, stirring to combine.
Transfer to a serving dish.  Sprinkle green onions (scallions) on top and serve.