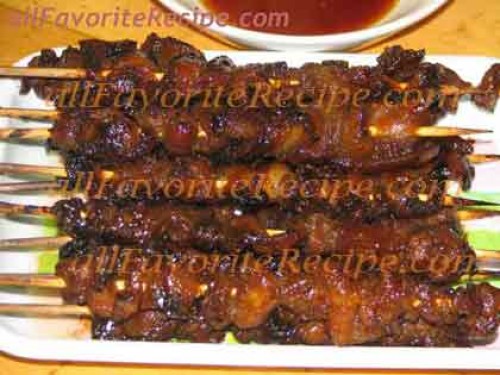 Ingredients :
1 lb. pork (pork belly or lean pork), cut thinly
salt and pepper, to taste
1 to 2 cups Mama Sita's Barbecue Marinade
1 tbsp. calamansi concentrate
1 tsp. salt
1/4 tsp. pepper
bamboo sticks, for skewer
(Cooking Chart)
Cooking Procedures :
Cut pork into thinly slices (or whatever suits to your liking). This makes the meat cook faster in lesser time.
Place sliced meat in a bowl and season with salt and pepper. Let sits for 30 minutes.
Pour in MS Barbecue Marinade, calamansi concentrate, salt and pepper. Marinate pork for at least an hour or two, or overnight, in the refrigerator.
Meanwhile, soak bamboo sticks in water for at least 30 minutes to an hour (or even over night). This prevents the sticks in burning while grilling.
Skew pork in bamboo sticks. If you want to use up the excess marinade, be sure to let it come to a boil first, before basting onto grilling meat, to destroy any harmful bacteria.
Preheat grill over medium heat.
Grill and baste pork until well cooked.
Transfer to a serving platter. Serve with your favorite sauce. Enjoy!
Try other variation: