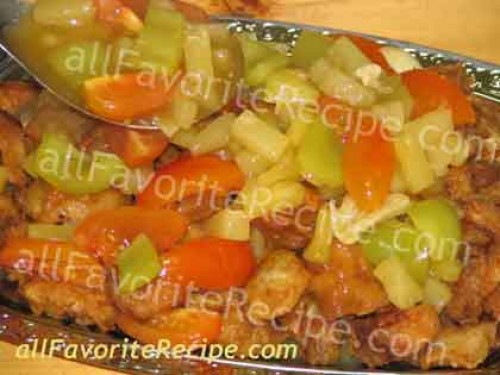 Ingredients :
1-1/2 lb. pork
1 egg, slightly beaten
2 tbsp. cornstarch
2 tbsp. vegetable oil
1 tsp. salt
1/4 tsp. white pepper
1 tsp. soy sauce
2 tomatoes
1 green bell pepper
3/4 cup all-purpose flour
3/4 cup water
2 tbsp. cornstarch
1 tsp. salt
1 tsp. baking soda
vegetable oil, for frying
1 cup chicken broth
1 cup sugar
3/4 cup white vinegar
1 tbsp. vegetable oil
2 tsp. soy sauce
1 tsp. salt
1 clove garlic, finely chopped
1/4 cup cornstarch
1/4 cup water
1 can (8-1/4 oz) pineapple chunks, drained
(Kitchen Measurements)
Cooking Procedures :
Trim fat from pork and cut into 3/4 inch pieces. Set aside.
Mix egg, cornstarch, vegetable oil, salt, pepper and soy sauce in a glass or plastic bowl. Stir in pork. Cover and refrigerate 20 minutes.
Cut each tomato into wedges and slice green pepper into 1 inch pieces. Set aside.
In another large bowl, mix flour, water, cornstarch, salt and the baking soda. Stir in pork pieces into batter until well coated. Set aside.
Heat vegetable oil in a wok (or a skillet) over medium heat. Fry about 15 pork pieces at a time until light brown for 4 minutes. Drain on paper towels. Repeat with the remaining pork pieces. Increase heat to high heat. Fry pork all at one time until golden brown, about 1 minute. Drain on paper towel. Transfer to a heated platter. Set aside and keep warm.
In a saucepan, mix chicken broth, sugar, vinegar, vegetable oil, soy sauce, salt and garlic. Bring to a soft boil for 3 minutes. Correct seasonings. Mix cornstarch and water, stir into sauce. Cook and stir until thickened for about 20 seconds. Stir in tomatoes, green pepper and pineapple. Heat to boiling for about a minute or two.
Remove from heat. Pour over pork and serve.