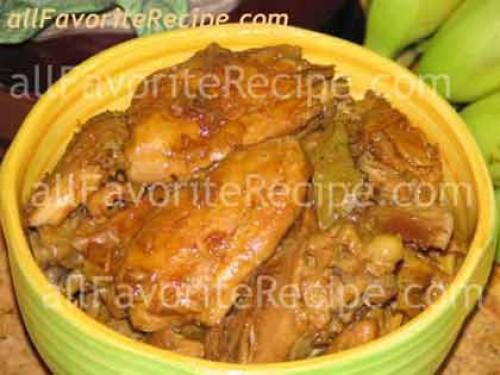 Ingredients :
1 lb. chicken, cut into serving pieces
1/3 cup white vinegar
2 to 3 tbsp. soy sauce
2 tbsp. crushed garlic
2 bay leaf
salt to taste
1/4 tsp. pepper (or 1 tsp. peppercorn)
water
2 tbsp oil
(Food Measurement)
Cooking Procedures :
In a deep skillet, brown chicken in oil.
Combine vinegar, soy sauce, 1 tbsp. garlic, bay leaf, salt (to taste), pepper (or peppercorn) and water. Stir to blend and then add into the brown chicken.
Bring to a boil. Lower the heat and allow simmering uncovered for about 10 minutes. If the sauce is reduced add about 1/2 cup water.
Cover and continue simmering until chicken is tender. Remove meat, reserving the sauce.
In another pan, sauté remaining garlic until it becomes fragrant. Add the chicken and fry until light brown. Add in the adobo sauce.
Remove from heat. Transfer into a serving dish. Serve hot.
Have you try This Adobo Recipe:
Check these other Chicken Recipes: