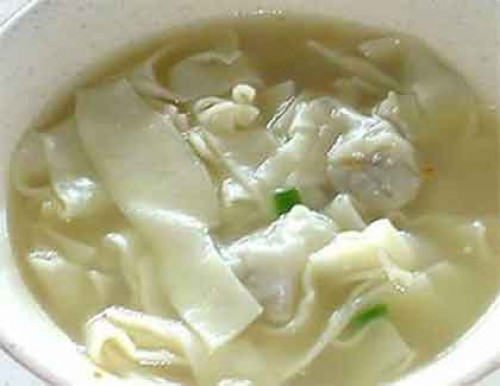 Need to know how to cook pancit molo recipe or pancit molo soup?  Guess what!?  This filipino food, pancit molo, has the term "pancit" or "pansit" which means (noodles) in its name but actually doesn't use any ingredient of noodles or "pancit" in its recipe.  Unlike other pancit recipe, pancit molo is not dry but souply and does not used noodles but it uses either wonton, siomai or molo wrappers.
Ingredients :
1 pack molo (or siomai/wonton) wrappers
Filling
1/2 lb. ground pork
1/2 lb. shrimps, chopped
1 small singkamas (turnip), chopped finely
1 small carrot, chopped finely
1/2 tsp. ground pepper
1 tsp. salt
1 egg
Broth
2 tbsp. oil
3 cloves garlic, crushed
1 small onion, chopped
250 grams ground pork
100 grams sweet ham, chopped
100 grams shrimps, peeled
6 cups chicken broth
salt and pepper, to taste
chopped spring onions, to garnish
fried garlic, to garnish
(Cooking Measurements)
Cooking Procedures :
Mix all ingredients for the filling.  Get one molo wrapper and put a little filling in the center.  Fold the wrapper, to make the two ends meet to seal.  Repeat procedure to wrap all the fillings.  Set aside.
In a saucepan, heat oil.  Sauté garlic and onions.  Add in the pork, ham and shrimps.  Cook for a few minutes and then add the broth.
Bring to a boil and then drop in the stuffed molo wrappers.  Season to taste.  Cover and let it boil again.  Reduce heat and let it simmer for a few minutes.
Serve hot.  Topped with spring onions and fried garlic.
Makes 4-6 servings.
Have You Tried These Other Pancit Recipe?