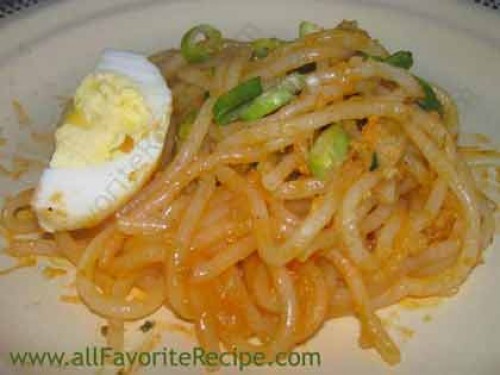 Pancit Palabok is a Filipino noodle dish of Chinese origin.  It is called palabok because the thin rice noodles are covered with a bright colored orange shrimp-flavoured thick sauce.  Aside from the sauce, pancit palabok has a toppings of prawns, wedge cut hard-boiled eggs, chicharon (pork cracklings), flaked tinapa (smoke fish), fried garlic and chopped of green onions.  Then finished it with squeeze calamansi (Philippine Lemon) all over.
Ingredients :
8 cups water
1 cup mongo sprouts
1 lb. pancit bihon (rice noodles) or palabok noodles
Palabok Sauce
1/4 cup atsuete (annatto) seeds, soaked in
1/4 cup water
2 cups shrimp juice
6 tbsp. all-purpose flour
1/2 cup water
salt and pepper,to taste
Toppings
1 cup cooked pork, cut into strips
2 pcs. fried tokwa (beancurd), cubed
1/2 cup flaked tinapa (smoked fish)
1/2 cup pounded chicharon (pork cracklings)
2 eggs, hard-boiled and sliced into wedges
1/2 cup shrimps, boiled and shelled
1/2 cup finely chopped green onions, to garnish
1 tbsp. fried garlic, to garnish
kalamansi (Philippine lemon)
(Cooking Measurements)
Cooking Procedures :
Boil water in a pot.  Place mongo sprouts in a strainer and then add the noodles.  Drop strainer into boiling water.  Cook sprouts and noodles until soft.  Drain well.  Pour noodles with sprouts in a large platter.
Prepare palabok sauce: Strain atsuete water.  Add to shrimp juice and cook in a saucepan.  Disperse flour in water and add to the pan.  Bring to a boil and stir constantly.  Season to taste.  Remove from heat and pour over cooked noodles.
Top with pork and tokwa.  Sprinkle with tinapa and chicharon.  Arrange egg slices and shrimps on top.  Garnish with green onions and fried garlic.  Serve with kalamansi.
Have You Tried These Other Pancit Recipe?