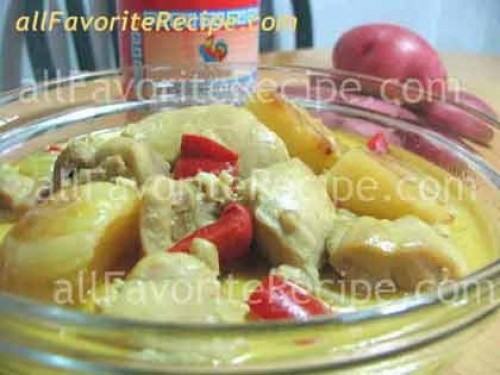 This curry recipe is one of my favorite Filipino chicken recipes in the database. In my family, chicken curry is a dish that we usually make during birthdays and parties back in the Philippines. But here in Canada, I continue cooking this chicken dish during special occasions because this is one of my famous Filipino recipe that my family and friends loves. They said that when they start eating this chicken curry, they feel a little burning sensation in their mouth and wow really spicy delicious.
Well, many countries had their own version of chicken curry but for me, the Filipino chicken curry is still the best.
Ingredients :
2-3 tbsp. oil
3 potatoes, peeled, quartered and fried
1 lb. chicken, cut into serving pieces
3 cloves garlic, minced
1 large onion, quartered
1 tbsp. patis (fish sauce)
3 tbsp. curry powder
salt and pepper
1 cup water
1 red bell pepper, cut into big squares
1 green bell pepper, cut into big squares
3 celery stalks, cut into 1-1/2" long
1 cup coconut milk or evaporated milk
(Cooking Measurements)
Cooking Procedures :
Pan fry potatoes. Set aside.
In the same pan, fry chicken pieces and brown a little.
Add garlic and onion. Sauté for a few minutes until soft.
Pour in patis and season with curry powder, salt and pepper. Stir for 2 minutes.
Add water. Cover and bring to a boil. Lower the heat; add celery, bell peppers and fried potatoes. Simmer for 3 minutes or until half done.
Add milk and stir occasionally. Cook for another 7 minutes (or lesser when using evaporated milk because the liquids will curled).
Remove from heat. Serve hot.
Check these other Chicken Recipes: