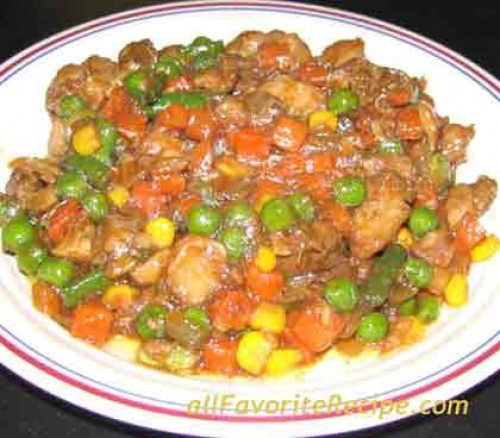 Ingredients :
1 lb. chicken, boned and skinned – cut into serving pieces (or any choice cuts of your liking like thighs, drumsticks or wings)
3 cloves garlic, minced
1 onion, chopped
1 tsp. soy sauce
1/4 tsp. salt
1/8 tsp. pepper
1/2 to 1 cup water (or broth)
1 tbsp. cornstarch
1 tbsp. oyster sauce
1 tbsp. soy sauce
1/2 tsp. sugar
dash of sesame oil
1-1/2 to 2 cups frozen mixed vegetables · vegetable oil
(Cooking Measurements)
Cooking Procedures :
Prepare frozen mixed vegetables according to package directions. Set aside.
Combine water, cornstarch, oyster sauce, soy sauce, sugar and sesame oil in a small bowl; stir to blend and set aside.
In a pan, heat oil over medium heat. Cook chicken until it turns slightly brown.
Add garlic and onion; sauté for a few minutes until onions are soft and translucent. Season with soy sauce, salt and pepper. Stir to blend.
Add prepared mixed vegetables. Stir to combine and then pour liquid mixture. Simmer for a few minutes until the sauce thickens. Correct seasonings.
Remove from heat and transfer to a serving dish. Serve hot.
Check other Chicken Recipe: