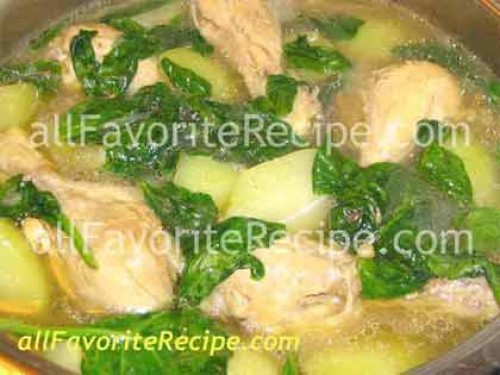 Tinolang Manok or Nilagang Manok (Chicken Ginger Stew with Vegetables) recipe is the filipino food dish that I was planning to cook when I arrived here in Canada. Tinolang manok recipe is a filipino food that is easy to cook but during that time, I don't know where to buy filipino ingredients specially papaya, sayote, chili leaves or malunggay and I thought that I couldn't cook filipino food dishes anymore.
But as I got familiar to places here, I've notice that cooking in Canada is not that difficult, as I have taught before. We even travel for an hour from our place just to buy filipino food ingredients. These filipino food ingredients are usually sold in Asian stores but some are not that often displayed. So, looking for a substitute is my next best option. Like this tinolang manok recipe, when I went to my favorite Asian store, the frozen malunggay or the chili leaves that I notice before are not there to be found, so I just used the spinach because they are abundant and it was recommended by a friend of mine.
Cooking away from your native country is challenging but enjoyable, especially when you are with your love ones. Happy Cooking!
Ingredients :
1 lb. chicken, cut into serving pieces (or any choice cuts of your liking like thighs, drumsticks or wings)
1 thumb-sized fresh ginger root, cut into strips
2 cloves garlic, crushed
1 onion, chopped
2 tbsp. patis (fish sauce)
salt, to taste
4 to 5 cups water (or rice water – 2nd washing)
2 to 3 sayote (chayote squash), quartered (or green, unripe papaya or potatoes)
1 cup sili (chili) leaves or malunggay or substitute 1/2 lb. spinach
vegetable oil
(Cooking Measurements)
Cooking Procedures :
In a medium saucepan, heat oil over medium heat. Sauté ginger and garlic until fragrant. Add onions, stir-fry until softened and translucent.
Add chicken cuts. Cook for 3 to 5 minutes until chicken colors slightly. Season with patis and salt.
Pour in water (or rice water, if using). Bring to a boil. Lower the heat and let it simmer until chicken is half-done. Add in chayote (or papaya or potatoes, if using). Continue simmering until chicken and vegetable are tender. Correct seasonings and then addsili leaves or malunggay or substitute. Stir to combine until well blended. Remove from heat.
Let stand for a few minutes to cook the green vegetables. Transfer to a serving dish and serve hot.
Check other Chicken Recipe: